Age Certification
To use the JWEI website you must be aged 21 years or over.
Please verify your age before entering the site.
μKERA Ultra - the next generation vaporizer technology
Dec 11, 2020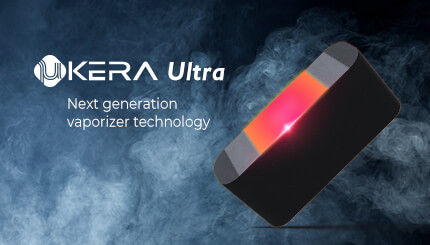 μKERA Ultra, another true revolutionary vaping solution from JWEI Group for the vaping industry, was officially launched today.

μKERA Ultra is a semiconductor wafer process based micro-vaporizer technology that produces vapor out of e-liquids or cannabis extracts in a unique way. The innovation of the μKERA Ultra vaporization technology lays in its heating element that has been produced using a coating technology that is conventionally used in the semiconductor wafer processing. The integration of the heating element onto the ceramic wick is steady due to a nano-scale adhesion with chemically covalent bonding, resulting in durable heating performance and reliable thermal cycling capability. It supports a maximum of 2500 puffs, making a true cottonless and refillable pod possible.μKERA Ultra is a breakthrough in the industry that not only lengthened the lifespan and improved the heating and vaporization efficiency with its three times larger heating area than others, but minimized the carbonyl emissions which can be found in other ceramic and cotton coils.

Vaporizer performance is the key to vapers; material safety is fundamental. The μKERA Ultra consists of food grade silicate ceramic wick and precious metal heating element. The porous ceramic wick has been compiled with many regulations such as RoHS 2.0, REACH, European and FDA Food Grade Materials. The heating element material is famous for its biocompatibility and has been extensively used in many medical applications.

μKERA Ultra is a new vaping solution JWEI offers to you. It can be applied in both electronic nicotine delivery systems (ENDS) and electronic clinical data systems (ECDS) products. It's the next generation vaporizer technology. It's the future!

Find infinite possibilities with μKERA!